Donate
to
Samaritan's Purse
to help provide desperately needed aid. Also,
Instapundit has a massive list
of charities providing relief.
Plus,
Hugh Hewitt writes
:
If you like this blog and trust my judgment, please send a check to a church in the heart of the city of New Orleans,

Canal Street Prebyterian Church, which will be a great steward of such funds. I am leaving it up to the church's session to figure out how best to use the money as they will know the community in which they live best. Here's their address:

Canal Street Presbyterian Church
4302 Canal St.
New Orleans, LA 70119

I am waiting until Tuesday to mail my check so that the USPS will have a chance to get resumed mail service organized.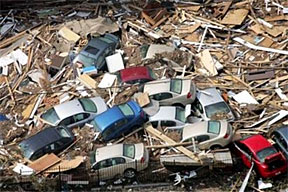 And
Mark D. Roberts
and
Melinda Penner
reflect on this tragedy from a theological perspective.